Get acquainted with Old and New Gods.
This new TV series based on the much older American Gods (2001) novel by English author Neil Gaiman.
If you like mythology and do not mind a bit of blasphemy and also a mesh of different folklores…this show might be very interesting.
Once upon a time, there was God…or maybe Gods…or just humans in need to believe in something bigger than just humanity and overmighty to explain and justify life and pain and disgrace and joy…
It starts in an America ruled by atheism but possessed by the obsession for television, phones, technology, drugs and of course food…fast food.
The intro of this show is brilliant because it gives you the essence of the nature of the AMERICAN new GODS. Catchy to the eye!
At the edge of reviving very ancient Gods from Africa to Norse Mythology and questioning how important TV, phones and other technology is to us (in the U.S.A in this case; but we all even in the ancient continent can relate to)  to the point of giving them the power of Gods. What are Gods? Who creates them?
Lots of questions in this show (book) in a new and fresh perspective. Not too judgemental about it at first…this is how to watch it best and then be lead by opinions of your God.
Tricks and elaborate complots to obtain power are at the core of this story.
It's quite interesting to see the revisited stories of some of the Gods in a modern world key or mythical figures intertwined in the plot of the show.
It will hook you up and even when you'll be trying to connect the dots in a mix of religions old and new…maybe even questions if Gods are that different for all mankind and the eternal question… did we create Gods to satisfy our needs or did they create us to serve them?
Who creates and who is the Creator?
It will be at times funny and I am a huge fan of one of the characters that will be a bit of a surprise: a Leprechaun. He's unlucky, very tall and totally inappropriate. I love him. 🙂
Other characters will be a bit more difficult to figure out and their intentions which make the show quite original and cool to follow; even though some things will stay unclear…for now…
Tricky Gods and angry ones will come along the "good" kind and the less clear ones.
You will meet Anubis together with Thoth from Ancient Egypt and Old English Folklore Ostara and get acquainted with Slavic deities.
All of them are serving a plot and picking a side for the Gods' domination of America. Old or New there will be only one God to win it all.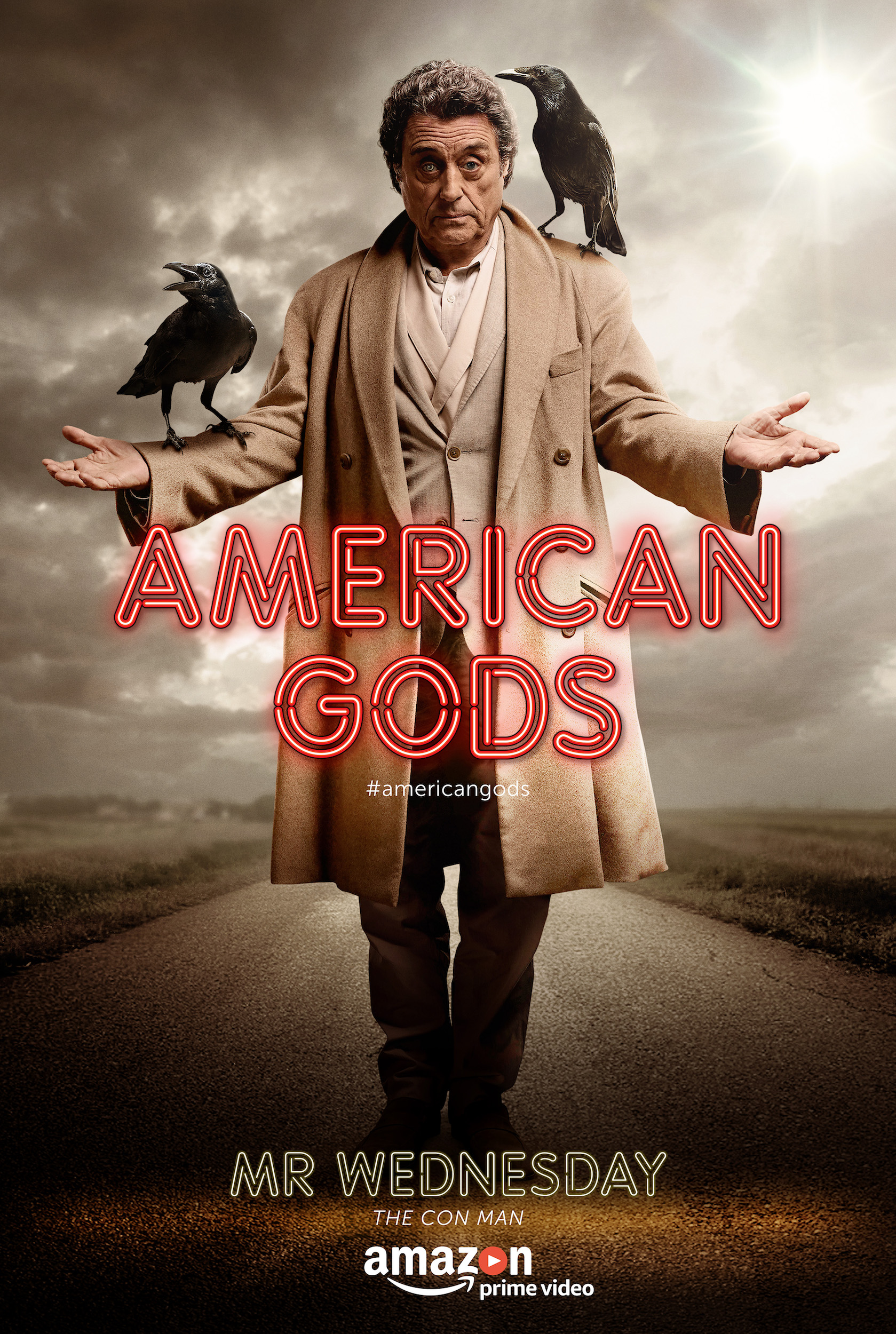 If the end of this season it will leave you wanting more; then you should grab the book written by Neil Gaiman which is more detailed and has a bit more twists that maybe on TV would be too complicated.
The series is a good mix of selected parts of the book that lets you perplexed on the edge of blasphemy whatever your God inclination might be and also intrigued by what do we really believe in and what we turn our eyes to when we need something…from a higher power…faith or illusion or maybe a bit of delusion…this will all be there waiting for you in this show.
 "the old bargain…ask a little and get a little" is the reason for wanting a war and dethroning the new "tech" Gods in America and restore the old formula or is the man behind the brewing war – the old God a liar until the end? He's a liar – do not forget that and he's … you'll find out 🙂
Battle of Mr. World and Mr. Wendsday …2 Gods Head on the opposite sides …or do they belong together after all?
Pick a side and be ready to be tricked 🙂